Cleansing at the deepest level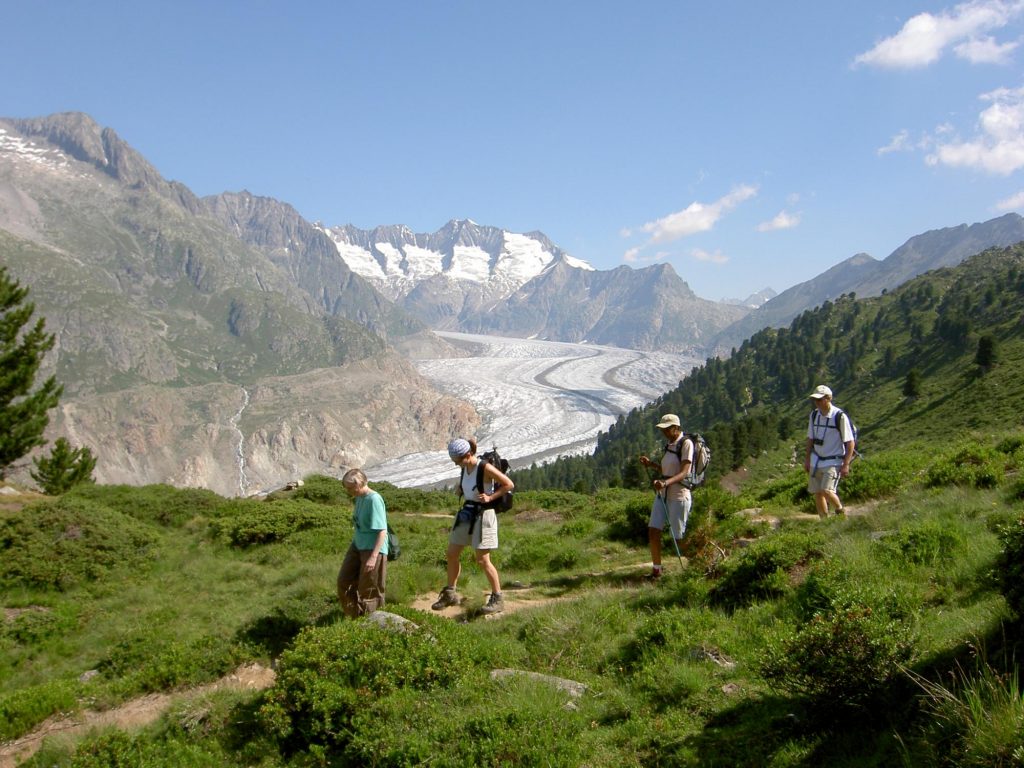 Spend one week fasting in a mountain environment and doing daily treks to replenish your body and mind. Professionally guided and open for all, with groups no bigger than 6 people to give you all the attention you need.
What's the point of fasting?
Our digestive system is said to be a second brain and plays a crucial role on mental and physical health. Fasting allows it to clean out the toxins accumulated over time, strengthens the immune system by renewing its intestinal flora, and regenerates the body's cells. But the consumer society tells us to eat all the time and prevents our system from doing its maintainance work properly. This habit is quite recent, possibly just a few decades old. When you fast, your body restores itself on every level: it taps into the fat cells instead of blood sugar to find energy, giving way to a deep-level detox. This "system restore" is what the medical world calls autolysis.
And what about hiking?
A daily physical activity is primordial to maintaining good health and hiking allows us to absorb nature's inherent beauty. Our body's fat-reserves provide all the energy we need, and relaxed physical activity helps lose weight without losing muscle mass. Walking is the world's oldest sport, for which the body is perfectly designed, making it the best activity to complement a fasting retreat. Our walks will include wild plant identification and foraging in order to make our own natural herbal teas for further cleansing. Walks will be adapted to the participants and the group's energy. The Oujon Ruins, the Fruitière de Nyon, Ballade à Béatrix and many other pleasant walks start from Saint-Cergue. And don't worry: this is leisurely walking for health, not an extreme sport.
Fasting for the spirit
Our modern lives are characterized by a constant flow of information, too much and too fast for us to digest. So many things we think we need, leading to lives of excess. We should learn to settle down, take a step back, breathe, and clear our minds. A one-week fast is a personal adventure that can change your view of the world.
Accomodation: In Switzerland, retreats take place in the mountain setting of Viayoga Center, and in Czech Republic at the Dolni Bela Retreat Center, a calm foresty abode 120 km away from Prague.
Pricing: 600 chf for the Switzerland retreats and 500 chf for Czech Republic. The price covers lodging, food (just kidding, but warm drinks are served to help cleanse the system), teachings, guided treks, and a 24-hour personal assistance.
Dates: The upcoming dates are yet to be defined. Please contact us to talk about it.
To Apply: Contact Iva Viatte at viayoga.ch@gmail.com or +41 79 573 01 66
Drop your baggage. Give yourself the space and time you need to face life with mental clarity: fasting will lighten your spirit, giving you the right tools to sort your thoughts and make deicisions you might have been putting off for a long time. You will realize why every religion has it's own version of fasting and why we've had it for thousands of years.
Art in the Wilderness with Philmar
September 9th to 10th 2017
Phillip Martin has 30 years of professional musical experience and teaches singing based on instrospection and listening to oneself. Connecting to one's nature, to our environment, and to those around us makes way for our natural creativity.
The ViaYoga Center, 1000m high and bordering the National Park of Jura and Vaud, gives us the right environment to do our activities outdoors and feel for ourselves the effect nature has on our creativity. Phillip and his crew will guide singing, both individually and in groups, meditation, Afghan Walking, discovering therapeutical essential oils, natural paints, painting with music, foraging, cooking with wild plants, and blindfold singing.
Pricing: 120 chf for one day, 200 chf for both
Date: From September 9th to 10th, starting at 10 am
Food: Shared meal – bring whatever you fancy and share it buffet-style.
To Apply: Contact Iva Viatte: viayoga.ch@gmail.com, +4122 366 39 80
Tummo Yoga Retreat in Kyrgyzstan
From December 27th 2018 to January 4th 2019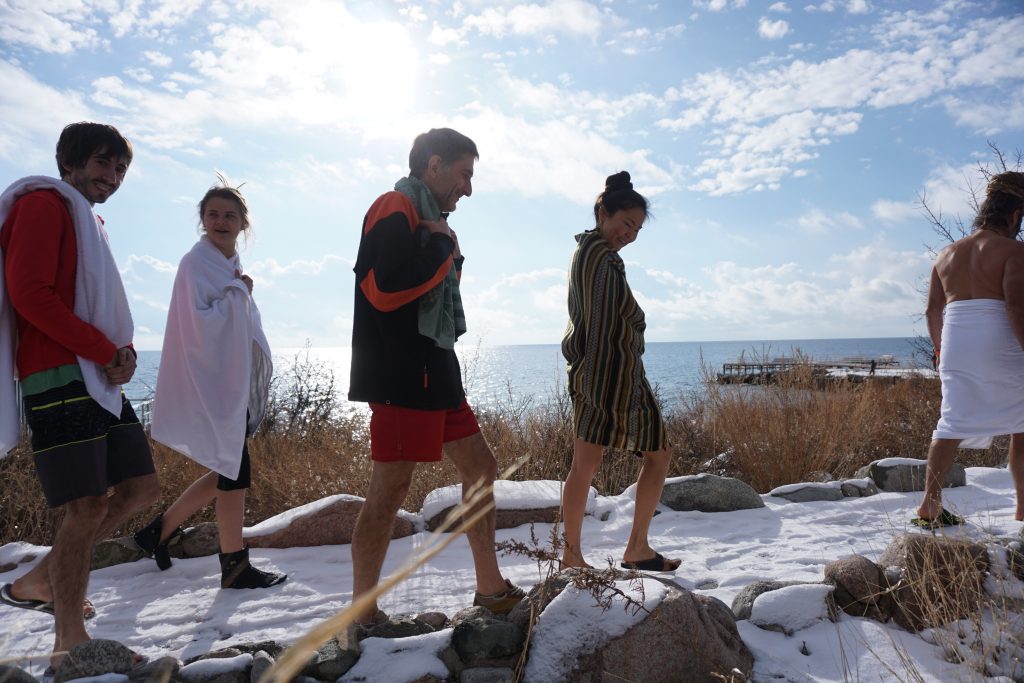 Issyk-Kul, the "Warm Lake", is the second largest saline lake in the world. Surrounded by Kyrgyz plains and mountains (the beginning of the Himalayan chain), its underwater thermal springs create a warm microclimate in the whole region. In winter, it's really not that hot (1°C), but that still means it never freezes, providing the perfect environment to grow our own inner fire by bathing together, submerged for longer and longer periods of time, losing ourselves in song, trance, and meditation. This transforming retreat will be led by Phillipe Djoharikian, a teacher of Tummo Yoga (the Yoga of cold) and Himalayan Kriyas. Our immune system is reborn and we transcend ourselves.
Pricing: 400 euros per person, including the teaching, transport from the airport, food and lodging
Accomodation: Private rooms or double rooms by the lakeside
Food: Vegetarian meals are included for the whole length of the course
To Apply: Contact Iva Viatte: viayoga.ch@gmail.com, +4122 366 39 80
January 13th to 14th 2018
We will weave together various practices, ceremonies, circles and workshops in order to deepen our self-knowledge and bring us ever-closer to our ancestral essence of love. The transversal language used by Mallkikuna in every one of her practices forms the ritual transmission of medicine, an ancient way of healing and sharing knowledge. Connecting to the ancestral memory inside of us and Pachamama, connecting with the energy of love that nourishes creation and being, and expanding it for it to become a medicine, not only for ourselves but for every relation around us.
Pricing: 250 chf for the entire weekend, including one night in the Yoga room. Mattresses and blankets will be provided, but if you can it would help to bring your own sleeping bag and sheets.
Date: Saturday January 13th, 9:30 am to Sunday January 14th, 6:30 pm
Food: Bring whatever you want to share buffet-style for lunch on Saturday and Sunday. Dinner as well as breakfast are optional for 10 chf extra
To Apply: danae.isely@hotmail.ch or info@mallkikuna.com,
079 464 17 91 ou 0039 331 413 82 64
"Creation is the most direct expression of love, renewing at every instant, and forms part of the ancestral memory, planetary and cosmic, present in everything. Love, according to this vision, is the most powerful energy of creation, transformation and healing that nourishes every particule of creation, that we can all heal and that we must expand in the new age."
Didgeridoo with Gauthier Aubé
September 24th 2017
A renowned teacher all throughout France, Gauthier Aubé has been performing on the biggest didgeridoo scenes and wrote several books on the practice. We have the honor to host him here at Viayoga Center for a one-day workshop and small concert.
Lessons adapt to every student's level, but it's still recommended to come with some basic knowledge, like circular breathing, to make best use of these teachings. They'll include breathwork, rythm, the wobble, and how to produce a variety of sounds with reliable accuracy.
Pricing: 130 chf (normal price), 100 chf (students)
Date: September 24th 2017, from 10 am to 7 pm
Food: Family meal, bring whatever you'd like to share!
To Apply: Contact Iva Viatte: viayoga.ch@gmail.com, +4122 366 39 80
August 5th to 6th 2017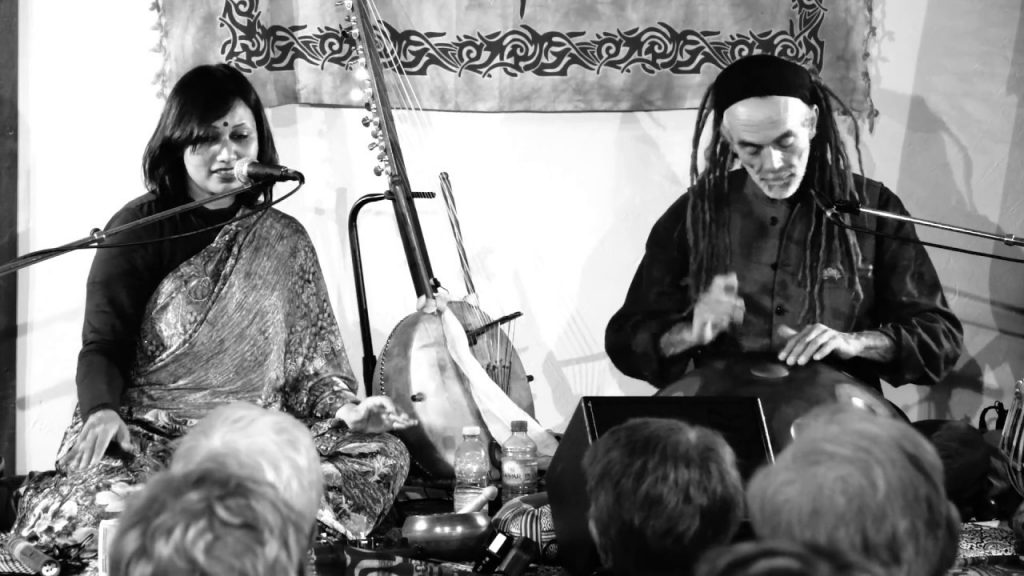 Tritha Sinha, born in Calcutta, is a child of music. She studied classical Indian music from the age of 5 and created her unique style, attracting fans from both India and Europe. She will teach us rythm, breathing, and voice, help us discover vocal harmony and develop our musical ear.
Martin Dubois is a professional author and songwriter. Drummer, percussionist, flute player, singer, composer… He will teach us Mongolian overtone singing and elements of Tabla (Indian percussion) as well as creating music. Inspired by the real artistic traditions of India, Africa, and the West.

Pricing: 130 chf for one day, 220 chf for both
Date: August 5th to 6th 2017, from 10 am to 6 pm
Food: Shared meal. Bring what you would like to eat and share with others buffet-style
Price of the concert: 30 chf for visitors; free for the workshop's participants
Registration: Contact Iva Viatte: viayoga.ch@gmail.com, +4122 366 39 80
Native American Ceremony: A Journey through Drums
From June 30th to July 2nd 2017
A drum journey is a very ancient visualization technique that allows you to find your power animal or totem animal, a part of your being that might have been lost after various traumas, and to heal from these traumas dating from time immemorial. The different drum vibrations allow you to dive deep into your cellular memory, reviving ancient wounds in order to heal from them.
The ceremony will be led by a Grandmother named Catherine Simon Laguila, born in 1951, and on the red path since 18 years ago. After several years of learning the Lakota Ceremonial Principals, sweat lodges, vision quests, Sun Dance, Chanupa, and drum journeys taught by men and women from various traditions, the time has come to share it with you.
Pricing: The entire ceremony is for 80 chf
Date: From June 30th at 8 am to July 2nd at noon
Accomodation: The Yoga Room includes mattresses and is provided free of cost. Private double rooms can also be rented for 25 chf per person.
Bring along: It's suggested you bring your own sleeping bag, something to write with, tabacco to make an offering to the Spirits, and food to share after the ceremony
To Apply: Please contact laiana.p@hotmail.fr
With help from the world of spirits, drums establish contact with the energy being that we are, giving it back its place, making it live, making us hear it, and giving us a deeper understanding of our incarnation on this earth and relation to everything around us. Open to everyone including children, this is a real step forward in self-knowledge and understanding others.
Ayurvedic Cooking Workshop
Cook and eat according to Ayurveda
Have you ever wondered why you eat? Just to satisfy your taste sense-door, fill your stomach, quench your hunger? Find answers to questions like what should we eat, when should we eat, how should we eat, and what to avoid. Determine dietary needs according to your Ayurvedic constitution and the benefits of different spices. Let's learn to cook and savour an Ayurvedic meal together.